About Trefacwn
Trefacwn is a magical four-acre estate situated on the edge of the Pembrokeshire Coastal National Park overlooking the Celtic sea. The land has an ancient healing energy that is palpable for all who come. The Grade II Listed Georgian Mansion is set in a stunning location, with panoramic views over countryside and sea from Strumble Head just six miles north, to St Davids Head an equal distance south.
On our grounds is also a large fire pit in one of the wooded areas featuring semi-circular terraced stone seating set into the bank and you are welcome to use this with prior arrangement.
Trefacwn borders the Pembrokeshire National Park with its spectacular Coastal Path and unspoiled, sandy beaches. This part of Pembrokeshire is famous for its Celtic Heritage and myths and legends. It is a paradise for walkers, birdwatchers and nature lovers at any time of the year. The bird sanctuary islands of Ramsey, Skomer, Skokholm and Grassholm are within easy reach.
More than 300 species of birds have been logged in this area, including rare seabirds like puffins and fulmars, and birds of prey such as buzzards, harriers, peregrine falcons and some of the last remaining pairs of choughs in the UK.
The influence of the Gulf Stream produces a mild Atlantic micro-climate in this part of Pembrokeshire, making it attractive for walking holidays at any time of the year. Many walkers prefer to come out of season, when it is both cooler and less crowded. The Coastal Path runs for 186 miles through beautiful Pembrokeshire scenery. You can choose the length and severity of your walk on any day. Packed lunches and transport to and from your start and finish points can be arranged.
Dog Friendly
Trefacwn is dog friendly, but numbers need to be managed and we ask that you read our pet policy and then contact us prior to booking to discuss availability.

History of Trefacwn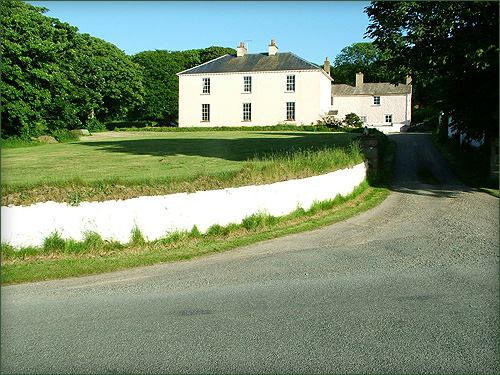 In the 17th and early 18th Centuries, Trefacwn was no more than a simple Pembrokeshire farm. During this time the house was occupied by the Perkin, Harding And Probert families, usually as a result of the marriage of an inheriting eldest daughter. In 1756, Elizabeth, the daughter of William and Grace Probert of Trefacwn, married John Harries of Cryglas. He was already a wealthy landowner, and when Elizabeth inherited Trefacwn and its farms in 1762 on the death of her brother, the Harries of Trefacwn dynasty began. It was to last until 1919.
John Harries died in 1797, and was buried in Llanrhian churchyard near his wife Elizabeth. His eldest son, also John, had died of consumption on board a ship returning from Lisbon in 1781. The estate passed to Samuel Harries, the second son (baptised St Davids 17th Aug. 1759).
Samuel Harries matriculated at Jesus College Oxford in 1776 (aged 16), took his BA in 1780, and his MA in 1783. Intending originally to take Holy Orders, he joined the army instead, and was affectionately known ever after as The Major. On the death of his brother, he returned to lead the somewhat eccentric and full blooded life of a country gentleman in his native county of Pembrokeshire.
By the time he inherited Trefacwn, Samuel Harries was already a landowner of considerable substance, not least through his own marriage to Mary Williams of Popehill, a grand-daughter and co-heiress of the huge estate of William Warren of Trewern, Nevern.
Before moving his family into Trefacwn, Samuel had the old farmhouse renovated and enlarged, and commissioned the building of the large Georgian Mansion facing St George's Channel.
There is a strong local legend that Samuel Harries was terrified of snakes, and knowing the story of Saint Patrick, had boatloads of Irish soil shipped over to form the lawns and top soil of the walled garden. I've never seen a snake here, and it seems to deter moles as well.
He built the coach house and dairy, and was responsible for the magnificent walled garden which supplied the house with plentiful fresh fruit and vegetables. It is our hope to restore the garden after its unfortunate more recent history. The monogram SH can still be found over various doors and gates on the property.
Samuel Harries seems to have been a larger than life character, and Trefacwn as it is today owes much to his expansive character.
He was passionately fond of sport, and built large kennels where he kept greyhounds and a pack of foxhounds. At Trefacwn, he kept what became known as a liberal establishment, entertaining a broad spectrum of friends and visitors, including Mrs Jordan, a celebrated actress of the day who had relatives near St Davids. Samuel Harries was the first local resident to have horse drawn carriages.
He owned local quarries, and traded in local stone and other materials. At least one of his ships was lost off St David's Head in a terrible storm. He was made a Freeman of Haverfordwest in 1785, and was a Magistrate for co. Pembroke for over 50 years.
Such a flamboyant character was bound to make political enemies, and The Major was involved in various legal battles. He was however revered locally as a generous and fair man, and at his funeral in February 1839 (he was 80 when he died), the attendance was very large, and the procession extended the whole way from Trefacwn to Llanrhian church.
After Samuel, successive generations added further land and property to the Trefacwn Estate. On the death of George Harries (Samuel's grandson) in 1892, the whole of the estate was put in trust for the benefit of his six sisters, all of whom married away. Eventually the trustees decided to sell the entire estate and distribute the proceeds between the six girls. Auctions were held in St Davids, Haverfordwest and Fishguard over 3 days in June 1919 when the whole estate was sold, much of it to existing tenants at below market price.
The Mansion of Trefacwn and its home farm was bought at the 1919 auction by Boss Jenkins, whose brother was a prominent local farmer. Boss Jenkins had no children, and left Trefacwn to his housekeeper Mrs Rees and her two sons Russell and Stewart. Russell and his son still run the dairy farm next door, and Stewart did some very basic conversion work on the main house before he sold to Viki Norfolk in 1988. Viki and her daughter Heidi ran Trefacwn as a very happy Farmhouse B&B for 10 years, playing host to (among others) touring football and cricket teams featuring various members of the Flynn family. Upkeep was always a problem, and in April 1998 Trefacwn was put up for auction again. Having had a presence in Llanrhian for 30 years, and knowing that we always wanted to find a way to live here full time while we could still really enjoy it, the decision was made. The rest is history.
Contact Trefacwn on 01348 837 797 or email us for more information