Strawberry delight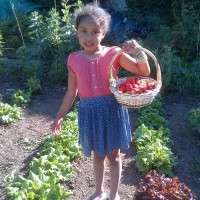 Strawberry season at last and harvesting can begin – alongside our gooseberries of course.
Even though the children seem very reluctant to be seen weeding or digging during the winter, I'm happy to accept their enthusiasm come harvesting the fruit bounty – still working on them harvesting veg though!
Our first pickings mean't every cottage got a taste of those lovely strawberries – not sure how keen the kids will be to part with the raw strawberry cheese cake Marianne is making today (OK, maybe it's a bigger struggle getting it out of daddies hands).